Steel Garages UK provide insulated garage sheets with a minimum 40 millimeter insulated composite panel. These panels are also available in 60, 80 and 100 millimeters. Note: Anti-condensation sheeting only reduces the risk of condensation forming on the roof and has no thermal value.  Be wary of companies who offer this product as an insulated building.
Contact us now to speak to one of our expert team members and discuss how Steel Garages UK can provide you with your outdoor building needs.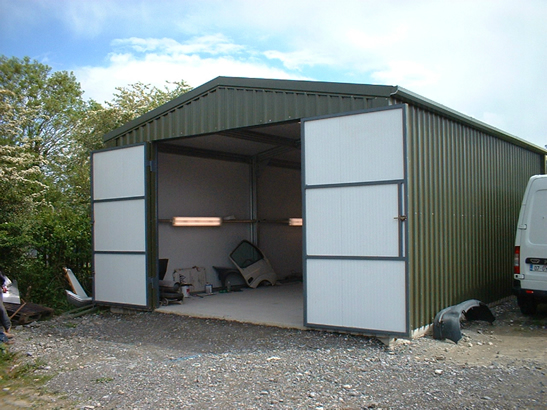 STANDARD INSULATED GARAGE FEATURES ARE:
Material: Structural grade galvanised steel frame.
100% more steel than our competitors.
2.44 meter eaves.
12 degree roof pitch.
Gds roller doors.
40 mill composite insulated panel to roof and walls.
Safe edge flashings.
Color matching gutters & downpipes.
OPTIONAL FEATURES:
Base frame
Steel p/a doors
PVC double glazed windows
WE WILL DESIGN THE INSULATED GARAGE AS PER YOUR REQUIREMENTS – CONTACT US NOW.