Steel Garages | Steel Garages UK
Steel Garages UK use the highest quality galvanised steel during the manufacture of your steel garage to ensure that you have a quality building which stands the test of time. Steel garages are available as an insulated garage, double garage, or a single garage.
Here at Steel Garages UK we can custom build a garage to meet any specification which you may so require.  Anti condensation roof sheeting gutters and down pipes are supplied as standard. If you would like to customise your steel garage, a range of PVC doors and windows  are available.  Our steel garages are fitted with GDS rollers as standard, however, industrial roller doors or electric roller doors can be added if required.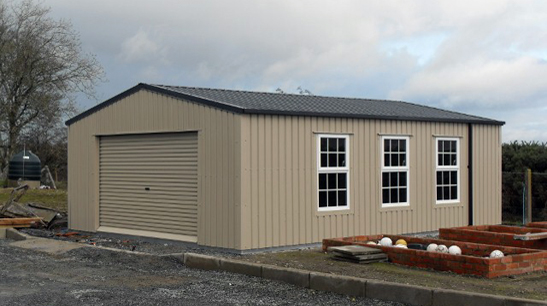 STANDARD GARAGE FEATURES ARE:
Material: Structural grade galvanised steel frame.
100% more steel than our competitors.
Colour matching gutters & downpipes
12 degree roof pitch.
2.44 meter eaves.
Gds roller doors.
Dobel (Swedish steel) PVC coated cladding.
Safe edge flashings.
Anti con roof sheeting.
OPTIONAL FEATURES:
Steel p/a doors
Base frame
PVC double glazed windows
WE WILL DESIGN THE  GARAGE AS PER YOUR REQUIREMENTS; CONTACT US NOW.